Given Georgia's unwavering path towards European and Euro-Atlantic integration, the Regional Branch of the EPLO has an ambition to become an active contributor to Georgia's further reproachment with the European family of nations. The branch will offer to Georgian governmental and non-governmental sector representatives, professional and social groups highly-qualified expertise, research and educational initiatives, advising and capacity building toolbox on topics related to the European Union, European community and national legislation, best European Practices for governance and administration, etc.
On the other hand, the Branch will also facilitate further expansion of the EPLO activities in the South Caucasus region thus contributing to the EPLO overarching goal of promoting European values and standards in Europe and beyond.
On June 28, 2010, the Parliament of Georgia adopted the resolution N 3155 on ratification of the founding treaty of the European Public Law Organization. Thus, Georgia became 17th member state of the EPLO. Since then, Georgia has been one of the active participants of the EPLO activities.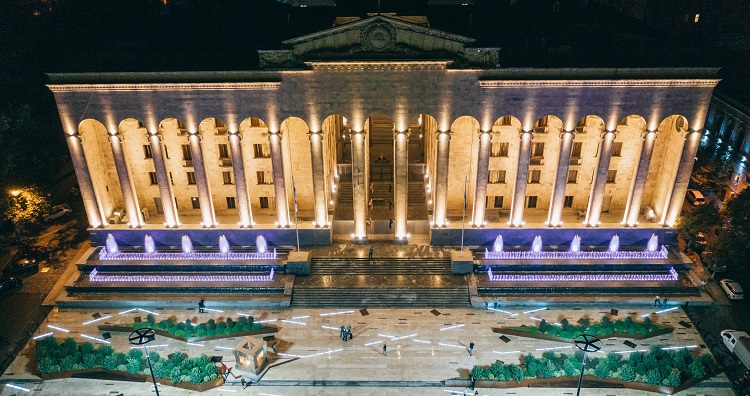 The cooperation was activated in 2018 when the EPLO Director Spyridon Flogaitis met with the then President of Georgia Mr. G. Margvelashvili in Athens. At the meeting parties discussed establishment of the EPLO presence in Georgia, namely the Regional Branch of the organization in South Caucasus. Such presence would be a facilitating factor for Georgia's European and Euro-Atlantic integration and would also enable the EPLO to further extend its activities and outreach the wider South Caucasus region through its educational and research toolbox.
In September 2019 Professor S. Flogaitis visited Georgia and met with the then Vice-prime Minister and the Minister of Justice of Georgia Madam Thea Tsulukiani, as well as high officials in the Ministry of Education, Science, Culture and Sport, the Presidents of the Ivane Javakhishvili Tbilisi State University Mr. Giorgi Shervashidze and Caucasus University Mr. Kakha Shengelia. At the meetings parties deliberated on organizational modalities of the EPLO presence in Georgia. The meetings demonstrated special interest and enthusiasm of both sides to finalize preparatory works for opening EPLO regional representation in South Caucasus in due time.