The Permanent Mission of EPLO to the UN in Geneva is headed by Permanent Representative and Ambassador George Papadatos. On 11 March 2019, Ambassador George Papadatos presented his credentials to the Director-General of the United Nations Office at Geneva Mr. Michael Møller.
The expanded role of EPLO in the Geneva international community and its amplified participation in all aspects of diplomatic and related activities aim at:
– highlighting and showcasing the significance of the EPLO`s work and the multitude of its accomplishments with the objective of seeking common avenues of cooperation with different international institutions
-providing the best conduit to get policy messages through to governments, institutions, Civil Society and to the international community in general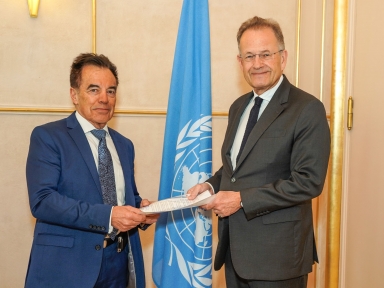 Ambassador G. Papadatos, EPLO Head of Delegation and Perman. Observer to UN, Mr. Michael Møller Director-General UN Genev
– expanding further its cooperation with UN and IGO Secretariats and signing agreements with different institutions
-participating actively in the activities and events organized by the Civil Society and undertaking joint actions in tackling issues of common interest
Promoting the "Geneva Internship Program"
The foundation of the internship program in Geneva is to familiarize students of international relations, political science and law with some of the major issues and workings of various Intergovernmental Organizations (IGOs) and the UN. The internship`s aim apart from offering a firsthand experience  during meetings of assemblies and governing boards of IGOs is to be a learning journey nudging students to think creatively and critically. Interns are requested to do a fair amount of introductory reading before participating in meetings of IGOs  and follow up with  specified essential and suggested readings. They will be expected not just to summarize debates and other developments but also critically attempt to uncover all possible shades of arguments during discussions.
EPLO in the fight of COVID-19
The Ambassador and Permanent Observer of EPLO in Geneva mr George Papadatos has been assigned to the UN Security Management Team chaired by the DIrector General of the UN Office in Geneva which meets regularly. It comprises of all the Heads of UN Agencies aiming to fight the COVID 19.