With the aim to produce knowledge on issues of cutting edge in the modern scientific discussion in Europe and bring together the best intellectual resources to discuss and promote issues with attention to their intercultural, political, European and international dimensions. Within the framework of this agreement it has been decided to establish an EPLO Regional Branch at Cascais, Portugal promoting education, research, training, and international cooperation activities with a paramount interest to the modern areas of international law as transcending into internal public law and with special reference to the fight against terrorism, corruption etc. The EPLO Regional Branch will plan, organize and run in the Municipality of Cascais a high level Annual Conference, various events, and other educational and training activities and will take initiatives to support the project.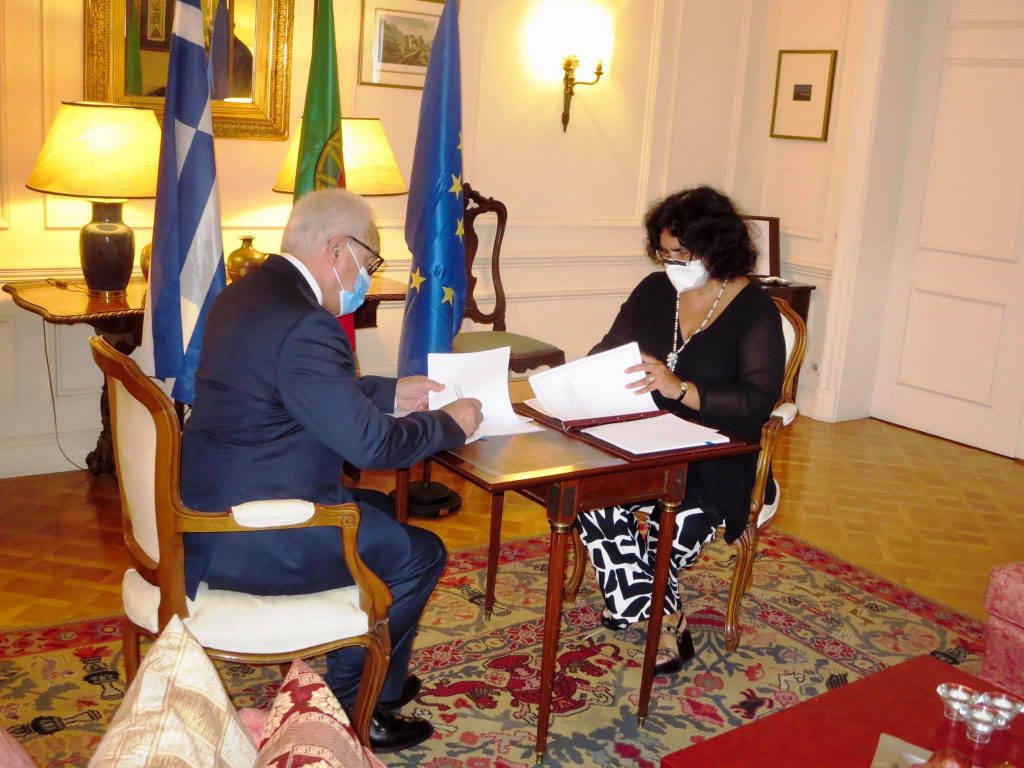 Η.Ε.the Ambassador of Portugal in Athens ms Helena Paiva and the Director of the EPLO Professor Spyridon Flogaitis
Ceremony for the signing of the Headquarters Agreement with Portugal -Η.Ε. the Ambassador of Portugal in Athens ms Helena Paiva and the former President of the Hellenic Republic Mr Prokopios Pavlopoulos
In a beautiful ceremony at the residence of the Portuguese Ambassador in Athens, the Portuguese Republic and the EPLO signed on Friday, 16 October, 2020 in presence of authorities and friends, a Headquarters Agreement with Portugal for the establishment and functioning of an EPLO Regional Branch in Portugal (Cascais) with full privileges and immunities.
This agreement is an important step in the development of EPLO's activities in Portugal which has been a member of EPLO since January 2017.
The Municipality of Cascais has already dedicated to the EPLO the prestigious Casa Santa Maria building on the Atlantic shore.